Everything DiSC® Profile Order Site by Center for Internal Change
Center for Internal Change offers everything you need to understand, research, sample and buy the right DiSC Personality Test and training products. DiSC Certification is available both in-person and online.
What Is The DiSC Personality Test?
DiSC is a personality assessment that provides insights into an individual's natural and adaptable behavioral styles in relation to their workplace, leadership style, management approach, sales style and other situations. The DiSC Profile is a blend of four primary personality or behavioral styles and their relationship to each other. DiSC is based on the original work of William Mouton Marston and has evolved into its current 3rd generation, the Everything DiSC model. We are able to generate instant online results. We provide you with a personalized profile with 33% higher validity, increased reliability, and greater usability than previously found in the older 28 and 24 question assessments. We us real-time, adaptive testing questions. All of our profiles are researched, developed and validated learning tools from Everything DiSC, a Wiley brand (previously Inscape Publishing).
Learn more about the four DiSC styles.
Who Uses DiSC Assessments?
DiSC has evolved into the premier personality and behavioral test for assessment-based learning. It is used by:
human resource and talent management professionals in Fortune 500 companies and corporations
federal and state government agencies
educational institutions
the not-for-profits sector
consultants, trainers and coaches
View a sampling of our DiSC clients by industry.
Everything DiSC Profiles and training materials are offered with the following focuses:
These third-generation DiSC Profiles incorporates adaptive testing questions and takes an average of 15 minutes to complete online.
The Original DiSC Classic: Personal Profile System 2800 Series, our 2nd generation traditional graph-based DiSC Personality Test is offered in the following formats:
This is the 28 question, four word cluster version. Just choose which word is most like you and which is least like you. These can be completed in 15 minutes online or 20-25 minutes for the paper self-scoring versions.
OnlineDISCProfile.com (part of Center for Internal Change) combines Everything DiSC's over 40 years of DiSC assessment research, product development and technology with the product knowledge and client/customer service that comes with being an Everything DiSC top Partner. This includes, but is not limited to:
Free unlimited consultation and customer support from our Inscape Publishing product consultants and DiSC Certified Training staff.
Quantity-based prices or customized training bundles (no need to buy more than you need).
Instant access codes upon ordering with immediate results upon completion for DiSC and other Inscape assessments or the ability not to have some see their results.
The ability to administer, brand and customize our online Inscape assessment profile tests and reports through your own personal EPIC Account online administration account.
Note: We can set you up with your own online administration account (EPIC Account) so you can brand your profiles with your logo and contact information. EPIC will also allow you to issue access codes, generate completed profiles and create group reports. It will also save you money on larger quantity orders.
Benefits of Everything DiSC Personality Assessment Test include:
Learning to appreciate behavioral strengths, challenges and differences in yourself and in others
Discovering ways of dealing with conflict effectively
Enhancing teamwork and reducing team conflict
Developing strategies for appreciation diversity in the workplace and building tolerance
Increasing sales skill by understanding how clients or customers behavior and make buying decisions
Improving customer relationships and satisfaction
Reducing personal and organizational conflict, stress and turnover
Improving communication skills and understanding communication styles
Enhancing and developing coaching and monitoring skills
We are excited to now offer the Emotional Intelligence (EIQ-2) Assessment and the Motivators Assessment for Motivational Styles and Values (PIAV).
NEW PRODUCT
The Five Behaviors Of A Cohesive Team™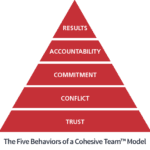 Finally an assessment-based program that focuses on The Five Pillars of Teamwork: Trust, Conflict, Commitment, Accountability, and Results. Utilizing The Five Dysfunctions of a Team model by best-selling author Patrick Lencioni, your team will learn how to maximize their behaviors to become a more cohesive and productive team. They will have increased awareness of team members' personality styles and how they benefit the team's overall success. Learn more…