Everything DiSC Workplace: DiSC for Everyone
The Everything DiSC Workplace profile is the 3rd generation of the DiSC profile published by John Wiley & Sons (formerly Inscape Publishing). Everything DiSC shows an individual's style as a dot on a circular model rather than the traditional line graph.
The Everything DiSC Workplace Profile focuses on:
Your DiSC® Style
Others' DiSC® Styles
Building More Effective Relationships
Stressors and Motivators
People Reading
This report is designed for anyone in an organization, regardless of title or role. It's perfect for personal development at school or at home. The result of this tool will be improved communication and a better understanding of both self and others.
Workplace Profile

The Assessment

Training Program

Follow Up Resources
The Everything DiSC Workplace profile provides a person an in-depth look at their DiSC Style and their Workplace Priorities. 
A person's DiSC style is indicated with a dot on the DiSC Map. The closer to the center of the map suggests you have a less inclined DiSC Style. On the other hand, the closer to the edge of the map suggests you have a stronger inclination towards that DiSC Style.
Your Workplace Priorities are shown around the edge of the DiSC Map (Challenge, Results, Enthusiasm, Collaboration, Support, Stability, Accuracy).  The placement of the dot associates three priorities typical of that style. But since the priorities are measured separately, a person could have an extra priority (or two) in one context, such as Workplace, but not in another, such as Management.  For example,  a person with the i-Style might share the priority of Accuracy with their C-style co-workers when measured with Workplace but not with Management.  This is just one example of the level of personalization found in the Everything DiSC suite of products.
Everything DiSC® provides the most advanced DISC-based assessments  available today. The testing environment uses an algorithm called Adaptive Testing (similar to that used in the SAT for college entrance) to provide both precision and accuracy.
Most DISC-based assessments (including DiSC Classic) use what's called a Forced-Choice testing environment. This testing environment has been used in behavioral testing since the 1950's.  In this model the respondent chooses words from sets of four to identify which is Most or Least like them. Prior to the advent of adaptive testing this with the best way to develop a behavioral assessment. 
Everything DiSC assessments use a 5-point Likert scale which provides easier response and eliminates the challenge of defining single words. 
Adaptive Testing  then provides a person a specific question based on how they answered the previous question. So, if a person's responses are inconsistent on a specific scale, (e.g. endorsing some C items high, and some C items low) they'll receive additional questions to reveal their true C score. Or, if their responses indicate they have two equally strong styles, more questions will be given to determine if one of the styles is stronger.
The result: 32% more accurate than DiSC Classic (the typical forced-choice instrument).
Furthermore, the assessment tests a person on 8-scales (D, Di/iD, i, iS/Si, S, SC/CS, C, CD/DC) rather than the standard 4-scales (D, i, S, C). This change makes the report more personalized than ever.
Want more details?  Download "How My Graph Became a Dot".
To get the most impact from the Workplace profile consider using the Everything DiSC Workplace® Facilitation Kit.
This training system is a ready-to-go package but also customizable. The training is comprised of three 90-minute Modules that take the participants through:
Learning about your DiSC Style
Understanding Other Styles
Building Effective Relationships
The kit include Powerpoint with embedded video, fully scripted Leaders Guide, reproducible Handouts, Posters, and option modules on People-Reading and using Comparison Reports. 
Ask about our recorded kit tour which will lead you through the kit and offer best practices from our experiences conducting the program with many client organizations.
MyEverythingDiSC
Included with all Everything DiSC profiles is access to MyEverythingDiSC.
What is MyEverythingDiSC? Consider it an extension of the Everything DiSC profile where your participants are able to create their own comparison reports and group maps. This personal portal includes a My Style section with an in-depth podcast taking the learner deeper into their style and a Learn About DiSC section with DiSC history and theory so your participants can learn even more. The best part? This resource is free. Call us to learn how to use this feature with your profile: (847) 259-0005
Workplace DiSC Style Guides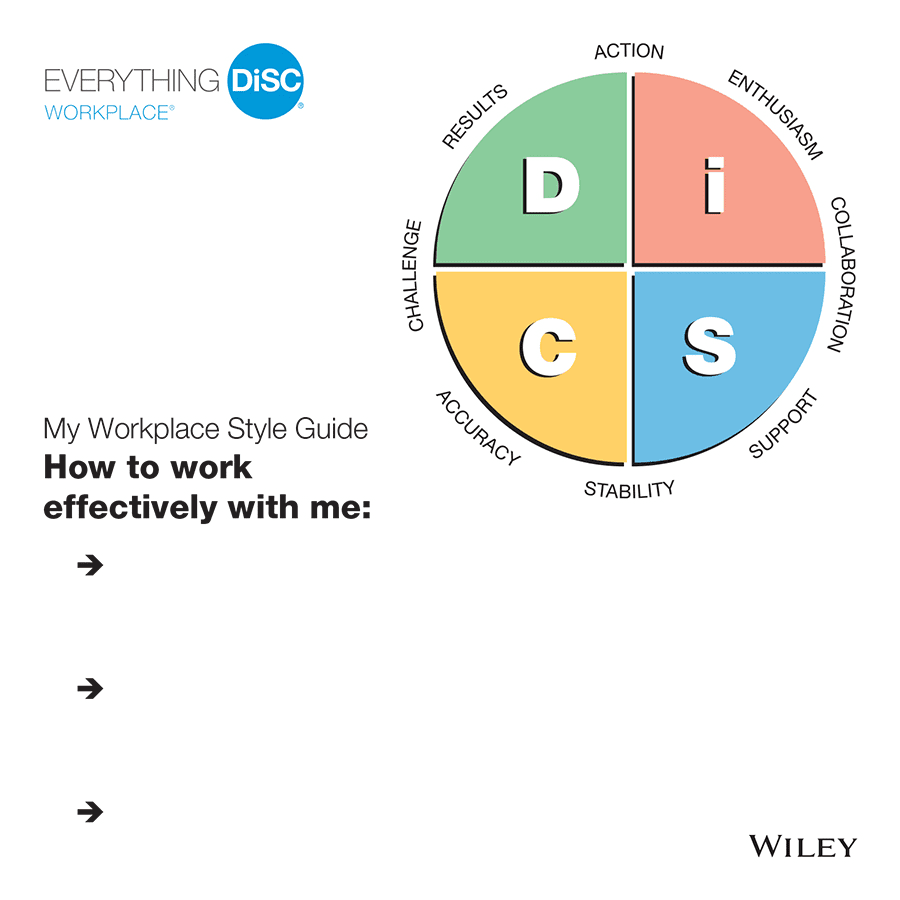 Looking for something physical that your participants can take
with them back to their desk or offices?  Consider purchasing the Everything DiSC Workplace Style Guides. These guides are great to leave with members of teams to provide a reminder of their training and to encourage them to use the DiSC language throughout their day to become better communicators. ( a starter pack of 25 comes with the Everything DiSC Workplace Facilitation Kit).
Workplace  Interaction Guides:
This "fold out" great job aid walks you through a quick people reading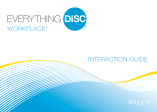 process to get a general fix on a person with whom you want to better relate. Once you have a read, you then open the guide to the inside where you get just-in-time relationship tips. The Workplace Interaction Guides, come packaged 25 per set and one starter set come with the Everything DiSC Workplace Facilitator kit.
Looking for more resources?
Everything DiSC profiles include additional free reports with your
purchase of the Everything DiSC Workplace report. These reports are
available if you open an EPIC account (the platform that stores and creates
your DiSC Reports) with our organization.
Everything DiSC Workplace Access Codes
Our instant access codes make it easy for you to purchase and take your assessment – no administrator account needed! Simply decide how you want to receive your results and check out online. You will receive an email immediately after you complete your purchase with your access code(s). The access code can be used to begin the assessment.
Instant Access Code with Instant Results
Respondent receives immediate access to their profile upon completing the assessment.
Instant Access Code with Emailed Results
Purchaser picks one email address for all results to be sent to. Results are emailed manually during business hours.
Enjoy Quantity Based Pricing on Everything DiSC Profiles
Quantity

Price Per Profile
What's included with your purchase?
Everything DiSC Suite of Reports
The Most Advanced DiSC Report Available
With Everything DiSC, you receive the most personalized DISC-style learning tool available. Everything DiSC Workplace is one application in the Everything DiSC suite of reports which incorporate the following features:
Build better relationships and make training stick with Everything DiSC Comparison Reports. These 11-page follow up reports can be created for any two participants to highlight their similarities and differences.
The Everything DiSC Comparison Report works with all Everything DiSC applications allowing you to create reports between peers, managers, leaders, and direct reports.
With MyEverythingDiSC you'll receive access to create unlimited comparison reports — at no additional charge.